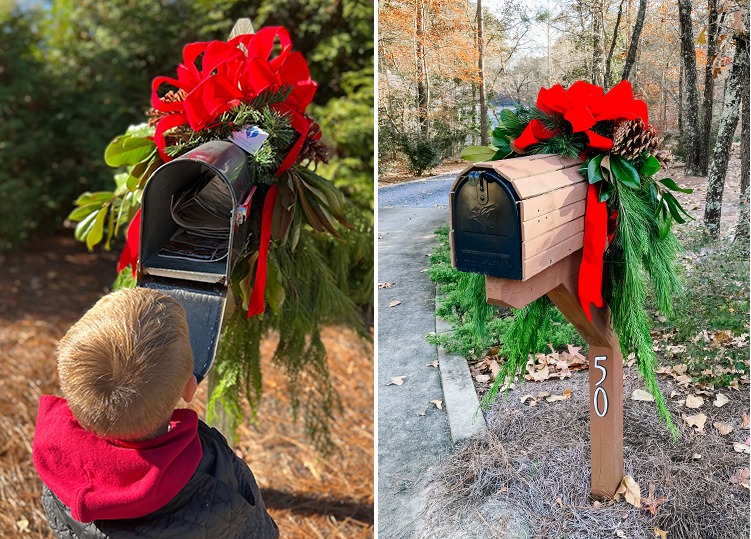 About Holiday Mailbox Brigade
We believe the holiday season is the perfect time to give back. Our Mailbox Swag event helps brighten the neighborhoods in Moore County with mailboxes decorated with fresh holiday swag and a festive homemade bow—all while supporting local charities with 100% of the proceeds.
Help us reach our goal to decorate 400 mailboxes during our 3rd annual Holiday Mailbox Brigade. For a minimum donation of $75, we will deliver and adorn your mailbox with decorations by Friday, December 9th.
Before moving to Moore County in 2018, Board Member Cami Gregg had purchased holiday mailbox swag from Children's Healthcare of Atlanta (CHOA) for their mailbox and for friends in the neighborhood. Inspired by this idea, she believed Friends of Pinehurst Surgical Clinic could host its own event on a smaller scale in the Pinehurst/Moore County area. We enlisted help from Hollyfield Design Inc. to purchase the greenery, bow fabric material and other supplies…and the rest is history.
During our first Holiday Mailbox Swag event in 2020, we decorated 225 mailboxes, donating $14,000 to Friend to Friend, a non-profit organization that extends help to all persons affected by interpersonal violence. This donation supported their new Butterfly Cottage, which provides additional support and shelter for survivors of human trafficking.
Learn below about how we've continued to spread holiday cheer in our community.
2021 Holiday Brigade Event
When: November 10 – December 15
The Impact: 375 mailboxes, raising $30,000 for Tambra Place
Decorating 375 mailboxes, our 2nd annual Mailbox Swag event was just shy of reaching our goal to adorn 400 mailboxes. Thanks to our passionate volunteers, and generous donors and sponsors, we raised $30,000 for Tambra Place, a transitional home for homeless and at-risk young women in Moore County.
Our Impact from the Organizations We Supported
This contribution to Tambra Place from the good friends of Pinehurst Surgical Clinic Board is outstanding. As a minister, I often preach about angels. Now I can point to you all as living examples of ones. Thank you for putting on the swag. Thanks for your generous spirit in wanting to make a difference in our community. And a great big thank you for making TambraPlace a recipient of your generosity. Your gift will definitely make a difference.

Rod Stone, Pastor, Community Presbyterian Church of Pinehurst
We on Tambra Place Board are speechless. You take our breaths away with your community-minded spirits, and you set a high bar for all who follow in your wake. Thank you so much for our youth who likely will never know you in person, but they will forever feel your effect on their young lives. You have channeled good things happening early on impressionable lives.

Chris Ganis, VP Tambra Place